Chicken Hungarian Style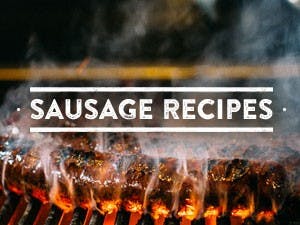 Enjoy this signature Hungarian chicken recipe, Butcher and the Boar style. Serves 4-6
INGREDIENTS
1 pack of Butcher and the Boar Butcher Brats cut into ½;; inch coins
1 whole chicken cut into 8 pieces or 8 chicken thighs
Flour
Salt and pepper
¼;; cup cooking oil, your choice
2 T butter
2 onions, peeled and sliced ¼;; inch
4 bell peppers, any color or combination of colors, cored, seeded and sliced ¼;; inch
3 cloves garlic minced
1 jalapeno, sliced
1 (28 oz.) can chopped tomatoes
1 cup chicken broth or water
2 T paprika
1/3 cup sour cream
1 bunch cilantro, chopped
2 T garlic-chili sauce
Juice of ½;; lemon
DIRECTIONS
Step 1.
Season the chicken with salt and pepper on both sides. Coat the chicken with flour. In pan heat the oil until smoking. Sear the chicken in batches in order to brown the exterior evenly. When the chicken is finished discard the oil.
Step 2.
Add the butter, salt and pepper, brats, bell peppers, onions, garlic and jalapenos to the pan. Continue cooking over medium-high heat to soften the vegetables.
Step 3.
Add the tomatoes, chicken broth and paprika. Bring to a boil then lower the heat to a gentle simmer. Cook for 20-25 minutes or until the chicken is thoroughly cooked.
Step 4.
Stir in the sour cream, cilantro, garlic-chili sauce and lemon juice.
Serve with dumplings, rice, noodles or potatoes.